На сервере установлен новый вариант - Minor Power.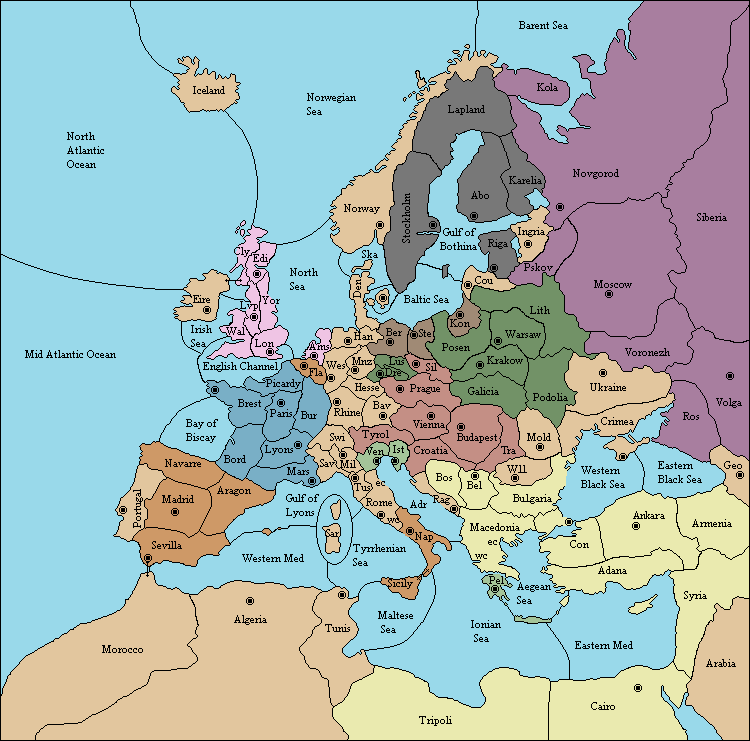 Параметры варианта (Версия карты: 1 / Версия кода: 1.1):
Автор: airborne
Адаптация к webDiplomacy: airborne
Завершенные игры: 15 игр
Средняя продолжительность: 19.33 фаз
Требуется ЦС для соло: 29 (из 57)
Провинций: 116 (Сухопутных=35; Прибрежных=60; Морских=21)
Спецправила/информация:
Succession and Enlightenment:
Europe is on the verge of being aflame. In the East the succession of the new King Charles XII of Sweden is being watched closely by her neighbors. It is very possible that war will break out to decide the next supreme power of the East. In the West, Charles II finally meets God leaving Spain is a state of chaos where Spanish possessions out of the heartland has taken their opportunity to gain more freedom from Spain. The great powers of Europe circle around like vultures. The proud Ottomans once the terrorizer of Europe is still reeling from the events of 1683, their empire crumbling all but name, only the heartland of the Empire under the Sultan's direct rule and the rest of the empire gaining more and more autonomy. Venice however is on a slight revival with defeating of the Turks in Morean War. It may be possible for Venice to reclaim a great empire. Yet in all of the tensions and conflict of Europe there is still the growth of science, philosophy, art, and music Enlightenment. Europe is ripe for great change. Diplomats and generals, play your music.
Special Rules:
Every country can build on all supply centers they own..
Austria controls Silesia at the beginning of the game but, does not start with a unit in Silesia
Starting Positions:
Russia: A Moscow A Novgorod A Volga
Venice: A Venice F Trieste F Peloponnese
Austria: A Vienna A Prague A Budapest
France: A Paris A Bordeaux A Marseilles F Brest
Prussia: A Berlin A Minden F Konigsberg
Turkey: A Constantinople A Belgrade F Cairo F Ankara
England: A Liverpool F Edinburgh F Amsterdam F London
Poland: A Warsaw A Vilnius A Krakow
Sweden: A Stockholm A Riga F Abo
Spain: A Madrid A Seville F Valencia F Naples