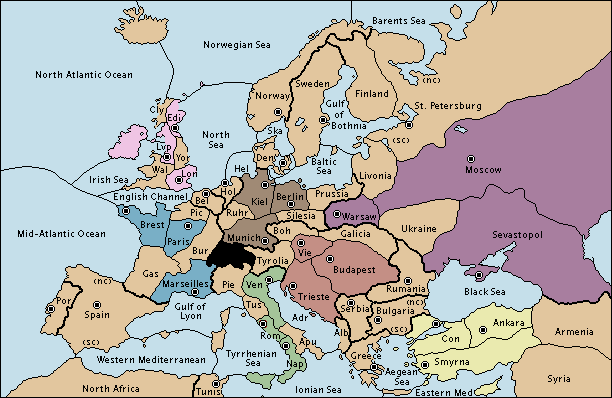 Параметры варианта (Версия карты: 1.0.4):
Автор: Mark Nelson, Josh Smith, and Rick Westerman
Адаптация к webDiplomacy: Oliver Auth / Carey Jensen
Завершенные игры: 4 игр
Средняя продолжительность: 21.75 фаз
Требуется ЦС для соло: 18 (из 34)
Провинций: 75 (Сухопутных=14; Прибрежных=42; Морских=19)
Спецправила/информация:
The game starts in Autumn 1897 when each player reveals which of their regular home supply centres will be their initial home supply centre by building a unit on that center. Russia may not chose StP as their initial home supply center.
The game then proceeds as normal with the exception that all centres owned after the 1899 build phase become home supply centres for the duration of the game.
Regular home supply centres that are not captured before Winter 1899 are *not* home centres in this variant.
If you hold another player's initial home supply centre at the end of Winter 1899 it becomes a home supply centre for you and is not a home supply centre for the original owner.
Players are referred to by their country of origin, even if they do not own any centres within their original homeland