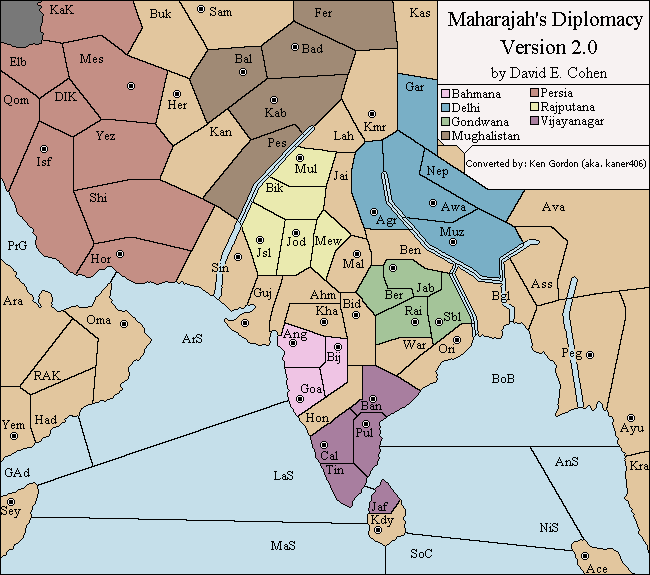 Параметры варианта (Версия карты: 2 / Версия кода: 1.0):
Автор: David Cohen
Адаптация к webDiplomacy: Ken Gordon (aka kaner406) & Oliver Auth
Завершенные игры: 3 игр
Средняя продолжительность: 10.00 фаз
Требуется ЦС для соло: 19 (из 37)
Провинций: 77 (Сухопутных=29; Прибрежных=39; Морских=9)
Спецправила/информация:
Navigable Rivers/River Convoys:
The rivers on the map, representing the Indus, the Ganges/Brahmaputra/Patna/Hooghly, and the Irrawaddy are available for fleets to travel up to the interior, and they can be used to convoy. The fleets will be on the provinces, as the rivers are not spaces themselves, but merely indicators.
ATTENTION: Unlike the original rules for this variant if a fleet attacks a convoying fleet in a river province, the convoy is not disrupted whether or not the attack is successful, the attacing unit need to dislodge the fleet for the convoy to be disrupted.
Players may build in any vacant Supply Center they own. (And not like in the original variantdescription hold the SC for a year.)
The starting year of the variant is 1501.